McHugh David | The Livingston Parish News
DENHAM SPRINGS — The Livingston Economic Development Council (LEDC) welcomed their new Chairman Thursday at their quarterly meeting. Regina Scott, of North Oaks Health Systems, will be replacing outgoing chair Buddy Wells, of All Star Automotive, after his two-year stint at the position.
If Wells, Parish President Layton Ricks, and LEDC Director Randy Rogers are to be believed, Scott is receiving the position at one of the best times in Livingston Parish.
According to the three, who led the meeting with their comments, there's never been a time to be more excited about Livingston Parish and economic development. New infrastructure projects, courtesy of local and state government, have sprung up all over the western side of the Parish. Improved infrastructure makes it easy to coax companies into picking Livingston, Rogers said.
According to Rogers, new industrial companies have found their home in the parish recently, and others continue to grow. He cited CAP Technologies and Superior Steel — two LEDC projects — as recent industrial additions.
The largest growth sector is retail, however, and the emergence of the long-awaited Juban Crossing project, which is moving into Phase 2. Over the final quarter of 2014, new shops appeared in bulk and more are on the way in 2015 — including restaurants. Rouses kicked off the new year with their opening, and will be followed by the likes of Ulta, Mattress Barn, and GNC.
"Look at sales tax to make a big jump this year," Rogers said. "Property sales, property tax, it's all going to go up."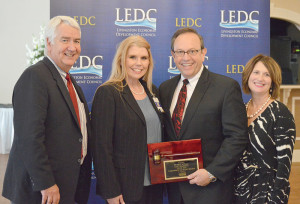 Rogers is hopeful for an industrial match of the retail growth in the Parish, specifically out of the Walker Industrial Park. Recently, an appeal of a wetlands determination was granted, offering 70 plus new acres of prime industrial development land for new and existing customers. In a joint effort with local and state governments, LEDC is extending the current roadway for a secondary exit and to provide infrastructure for potential new tenants.
Rogers and Wells both discussed the 'unmentionable' project that LEDC is working — a large scale industrial outfit that's interested in the park expansion, and plans to announce their arrival in the coming months.
Finally, Rogers brought up the future of the Northshore Technical College in Livingston Parish. He believes ground will be broken next year, as bonds are ready for sale and the Parish has nearly come up with their 12% financial match to start the process. Rogers said the campus will cover some 12-15 acres on the current site of the Literacy and Technology Center in Walker, and he was adamant that it will arrive soon.
"We hope we might see classes on that campus as soon as next year," Rogers boasted.
Rogers said that at LEDC's second quarter meeting, on April 9 at Forrest Grove, William Wainright — Chancellor of Northshore — will speak on the release and scope of the new education facility.
The meeting wrapped up with the presentation of the Bob Easterly award for 2014. The award, which is named after past LEDC Chairman Bob Easterly, recognizes an individual who has dedicated a 'sizable' effort to economic development in the Parish.
The 2014 winner was Mary Broussard, who is employed at Entergy. According to Scott, who presented the honor, while Broussard has been moved to the River Bend nuclear facility in West Feliciana Parish, she still works with LEDC continuously. She served Entergy in Livingston Parish for 12 years, and spent 12 years on the LEDC board — including two terms as Chairman. She was involved in the hiring of Rogers as director, and put in 'considerable' effort towards securing Bass Pro in Denham Springs.